"The best approach for managing reputational risk and brand damage related to a corporate crisis is to assess the facts and develop a strategy, with the benefit of attorney-client privilege; to contain adverse implications both before and after the incident becomes public."

– Lanny Davis
Lanny J. Davis is co-founder and partner of the law firm of Davis Goldberg & Galper PLLC, and co-founder and partner of the public relations firm Trident DMG. Lanny Davis is a renowned legal crisis management expert. A lawyer and communicator with decades of experience, Lanny Davis has served in numerous roles, most significantly as former White House special counsel to President Clinton.
As President Clinton provided in a written statement to The Hill upon starting Lanny J. Davis & Associates: "Lanny Davis has a unique combination of extensive experience as a first-rate practicing attorney and expertise in dealing with the media, political leaders and the legislative process."
Davis served as special counsel to President Bill Clinton from 1996 to 1998 prior to serving on the Privacy and Civil Liberties Oversight Board for President George W. Bush.
Click here to read Lanny's full bio.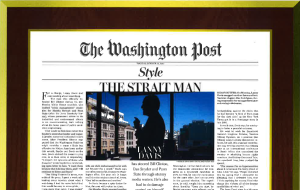 The Washington Post calls Lanny "the skipper for big names in dire straits." Read the profile.